Bali is a wildly popular destination for a wide range of travellers, it continues to impress because it is as many things to as many people. While it offers a fascinating ancient culture, unique customs, vibrant arts and eternal summer, a large part of those who flock to The Island of The Gods just want to relax and enjoy themselves in a beautiful environment. This would explain why Bali's tranquil villas are such a huge draw. For your next trip to Bali, here are seven villas that are so incredibly picturesque that your Instagram followers would forgive you for flooding their feeds with #vacay snapshots.
img credit: here
Bambu Indah (@bambuindah)
The founders of eco boutique hotel Bambu Indah acquired 11 antique Javanese teak houses 12 years ago—these 'bridal houses' were built by noblemen for their new wives more than 100 years ago. After carefully dismantling these historical buildings, they brought them to Bali, restored them and share them with guests from around the world. The hotel's restaurant, Dapoer, serves up local recipes that uses 75% Indonesia-produced ingredients. You can also look forward to memorable experiences such as Balinese blessings and ceremonies, hikes and tours.
 img credit: ncwong 
Jungleroom (@jungleroombali)
Like Bambu Indah, Jungleroom also consists of antique buildings—here, you would find two traditional Karo houses from the island of Sumatra and several authentic Joglo houses, faithfully restored and lovingly decorated. Located in Canggu, this idyllic group of villas is designed with "creators, makers, doers and explorers" in mind. Other than one-of- a-kind accommodations, Jungleroom also offers daily yoga sessions, a juice bar that serves organic cold pressed juices and smoothies, and a very laid back vibe.
 img credit: ncwong 
Le Pirate, Nusa Ceningan (@lepiratebeachclub)
Part of what some would say is the "Maldives of Bali", Nusa Ceningan is located Nusa Lembongan and Nusa Penida. With only 1000 resident, this island is the place to go when you need a break from Bali's busy streets and vibrant night life. Le Pirate is positioned on a low cliff overlooking beautiful turquoise waters, and offers direct beach access. Whether you are sunbathing on a deck chair by the poor, or looking at the horizon as the sun sets, this charming resort hotel will let you relax and recharge.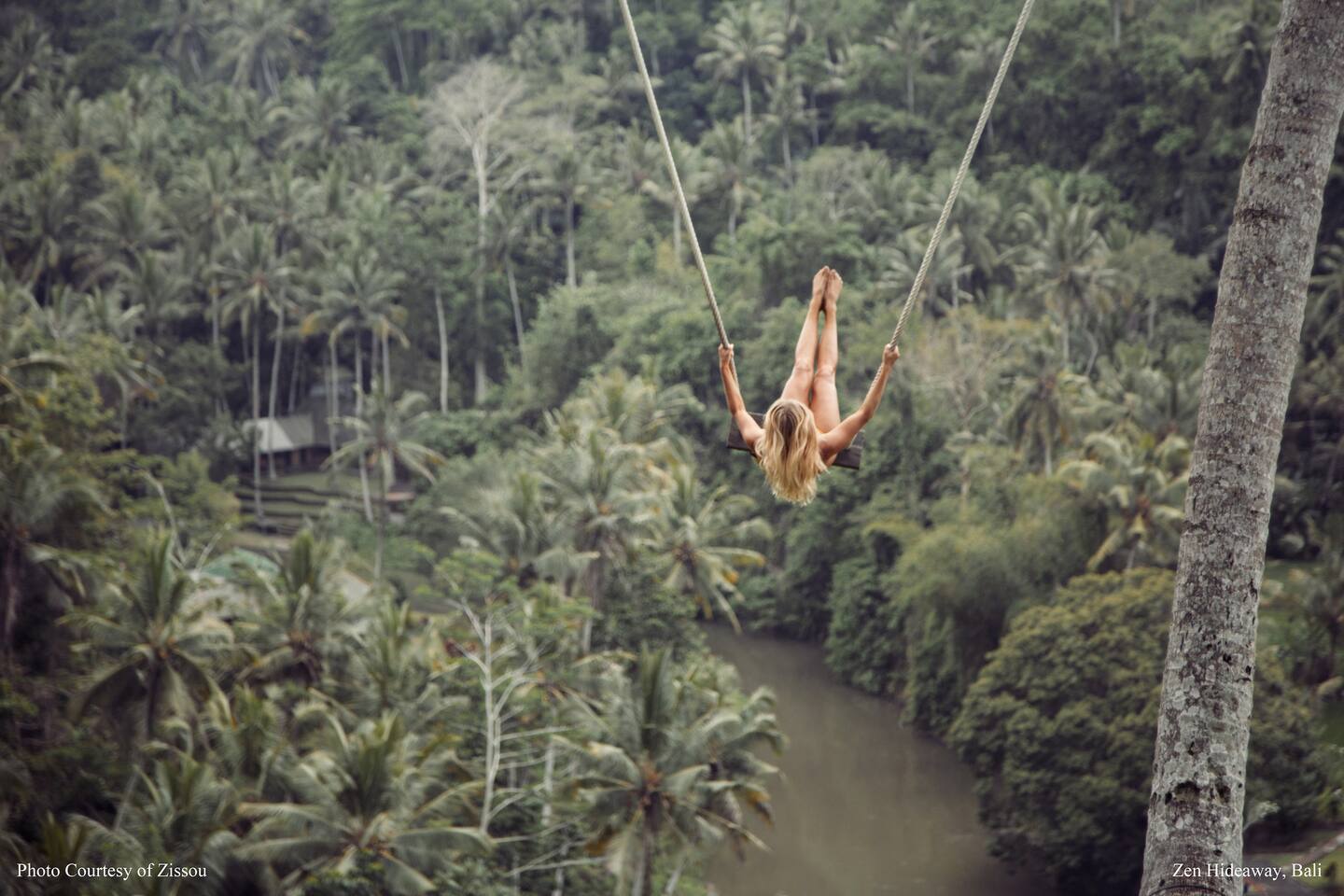 img credit: here
Zen Hideaway, Ubud (Link)
If you are looking for a villa with a view, few can beat this "150-year- old teak house, redesigned with a Japanese wabi-sabi aesthetic", located by the Ayung River. Inside, you would find a spacious open-air living and dining area, a master bedroom, a small study room and a generous kitchen. However, it is what is on the outside that would wow. From this vantage point, you would have a sweeping view of the surrounding landscape, which includes a magnificent waterfall, rolling rice fields and Mount Agung. Spending an entire day on the huge iron wood deck that overlooks the valley sounds like an excellent idea.
img credit: here
A Luxury Canggu Beach Villa (Link)
Here is something for those who do not care much for antique houses—a wholly modern and luxurious abode that exudes industrial chic with its concrete walls and exposed steel beams. Featuring three bedrooms and a private swimming pool, it is just 300 metres from the beach—perfect for those who came to Bali for the sun, sea, sand and surf. You can even buy fresh fish from one of the colorful traditional colourful "Jukung" fishing boats for a delicious lunch.
img credit: here
Hideout Bali (@hideoutbali)
This "eco bamboo home" rests on the riverside and is hidden in the mountains of the Gunung Agung volcano. Made entirely of bamboo from the nearby village of Iseh, the Hideout was built in 2015 with the help of local workers. Offering a truly off the grid experience, you would find plenty of peace and solitude at this rustic villa—the nearest village is 500 metres away. This striking house would allow you to plop yourself right into the middle of Balinese village life—you may even see villagers bathing, washing clothes and performing ceremonies in the river.
 img credit: here
The Slow (@the.slow)
This boutique accommodation is for the art lovers, or anyone who enjoy understated elegance and luxury. Designed to be a multi-faceted venue that offers beautiful suites, all-day dining, art, culture and retail, this is an interesting space to "rest your bones, stir your senses, and expand your mind". The decor of the suites—Grand Suite and Pool Suite—are defined by a tropical brutalism aesthetic. Think lots of wood, floor-to- ceiling windows, vertical screens and inverted gardens. You would find plenty of lush greenery both inside and outside these luscious rooms that are filled with handsome, locally produced artisanal furniture.